Map Unavailable
Date / Time
Date(s) - 07/13/2019
18:30 - 21:30
Location
HENN
Categories No categories
AKQA, HENN, and Smart Infrastructure at Siemens invite you to an exclusive evening of multidisciplinary experience design and networking.
About this Event
Three approaches explore the similarities and connections between the design of physical spaces and that of digital experience – and how we can create spaces that seamlessly interconnect the two.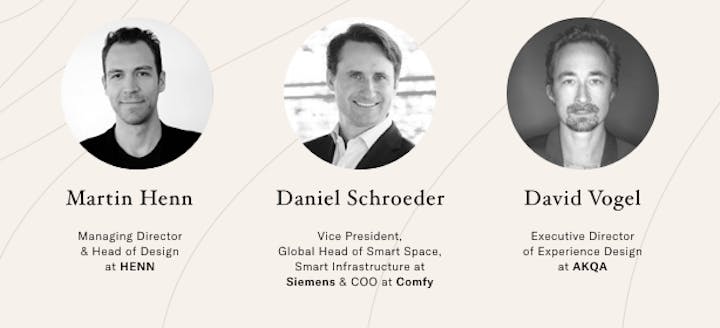 What is the role of architecture in the digital age? Which potentials does the digital transformation unleash? How can the physical and the digital world augment each other? Martin Henn, Managing Director and Head of Design of HENN, will share insights from the studio's ongoing explorations in the fields of future work environments.
How to make people more happy and productive? How to create transparency and future proof buildings with a more flexible infrastructure? Daniel Schroeder, Vice President, Global Head of Smart Space, Smart Infrastructure at Siemens and COO @ Comfy will contribute Siemens vision around "Building as an Interface". He'll explain how buildings can be platforms that empower human interaction. Not only meeting their occupants' needs in terms of convenience but also allowing for a whole new level of transparency and space efficiency.
How to create experiences that delight and add value to people's lives? AKQA's Executive Director of Experience Design David Vogel will explain how designing smart buildings requires a different way of thinking about the interface: less immediate, less intrusive, more predictive, more personalised, more human. To change the paradigm from a building that imposes digital technology on its occupants to a building that truly understands and supports its occupants.
Agenda
6.30 PM: Doors Open
7.00 PM: Session Starts
9.30 PM: Doors Close
AKQA is an ideas and innovation company. We exist to create the future for our clients. We do this through the imaginative application of art and science leading business transformation and creating beautiful ideas, products, services, and spaces. We invent labors of love, the kind of work that captivates people in unexpected ways. That's why we say the most powerful force in the universe isn't technology, it's imagination.
HENN is an international architecture office in Munich, Berlin, and Beijing with more than 70 years of expertise in the fields of workspace, culture, health, education, and research as well as production and master planning. The office is led by Gunter Henn and twenty-two partners. 350 employees – architects, designers, planners, and engineers – from 30 countries are able to draw upon a wealth of knowledge collected over three generations of building experience in addition to a worldwide network of partners and experts in a variety of disciplines.
Smart Infrastructure at Siemens intelligently connects energy systems, buildings and industries, enhancing the way we live and work to significantly improve efficiency and sustainability. We change buildings from static, inactive objects to responsive and reactive one's – able to care for the people who use them and respect the world around them.